5 Ways to Fight Division in Your Life
The good news is that research has shown that the following five actions increase our chances of breaking free of toxic polarization. Try these five practices over the next four weeks to help shake up how division is showing up in your life.

Stop to Reset
Destabilizing times like ours can be fertile ground for changing our more entrenched patterns — but only if we take advantage of them by committing to a significant reset; that is, by pausing sufficiently to be reflective and intentional about the next path we choose.

Spot Positive Deviance
When we find ourselves trapped in the vicious cycles of polarization, it is best to figure out what is already working. So rather than trying to fix the problem with some new idea or program, first find the bright spots — the people or programs that are already working effectively to mend the divide.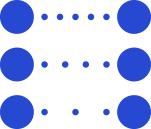 Complicate to Simplify
When humans face challenging conflicts, we tend to prematurely simplify them and fall into Us vs. Them thinking. We can avoid this by intentionally complicating life. That means developing new habits of thinking, feeling, acting, and living that allow us to tolerate and learn from contradiction, nuance, and opposition.

Move to Synchronize
When agonizing conflicts leave us feeling trapped and confined in an Us vs. Them world, consider movement as a salve. Neuroscience research has found that physical movement can help us to break free of ingrained patterns of thinking, feeling and reacting. And moving together — side by side — has shown to promote empathy, rapport, and flexibility.

Adapt to Setbacks
The way out of our political quagmire will be hard and we'll make mistakes. The key here is to expect and learn from setbacks by taking a long view and proceeding in ways informed by sound research on effective decision-making in complex environments.